In 1987, the Discovery Channel aired its now famous weeklong series "Shark Week" for the first time. It quickly grew in popularity and by 1995 it was pulling in over 20 million viewers. It has consistently garnered high levels of attention ever since, and in 2008, it hit its highest numbers yet, with 29 million viewers tuning in. It has become such a powerhouse in Summer programming, the series usually airs at the end of July, that celebrities like supermodel Heidi Klum and the Late Late Show's Graig Ferguson have deemed it worthy of their participation (and vice versa).
The question as to why people are fascinated by sharks is not new. I could philosophize about our society's need to fabricate thrill and excitement, fueling our captivation for these amazing predators in much the same way as the slew of mediocre horror movies constantly in production or amusement park roller coasters do. I could also attribute our fascination to the shark's oceanic habitat (except for those pesky freshwater sharks of course), which we will never be able to fully appropriate. We may be able to destroy it, but having that kind of power over something or someone can never signify ownership, no matter how hard humans have tried to prove otherwise.
I could go on and on about the sometimes absurd reasons for the shark's popularity, but, in truth, I am just as enraptured by these animals as the next person. I can remember begging my father as a child to buy me a brand of breakfast cereal I never would have wanted otherwise, simply to get the pair of Shark Week 3D glasses contained inside.
I still find sharks, skates and rays (Elasmobranchii) fascinating. Being a zoology student, it is possible that I might find them more beautiful and elegant than the average student. That being said, the marine and freshwater biology students at the university easily surpass me in their reverent love for sharks and student Samantha Sherman clearly epitomizes this.
Sam is currently writing her undergraduate thesis on the brownbanded bamboo shark (Chiloscyllium punctatum). It is entitled "Ontogeny of methylamine production in the brownbranded bamboo shark".
A few weeks ago, during a rather hilarious conversation among a few exhausted biology students in need of a study break, she mentioned that she needed volunteers to aid her in sample collection. More than happy to lend a hand and experience something new in the process, I volunteered to help her, and on Wednesday, November 16th, I got to do just that.
The sharks she works with are juveniles, which can easily be distinguished by their adult counterparts thanks to their dark gray and white banding patterns. The adults, measuring up to 1 meter in size, are brownish in colour. They are found in the Indo-West Pacific.
This is one of the sharks Samantha works with. It is a 1-month-old male bamboo shark. In the aqualab, they are feed shrimp but they will also feed on scallops, squid and small fish in the wild. I loved being able to touch this little guy's rough skin.
I was most interested by the shark eggs, however, because I had never seen one before. If you look closely, you will see the banded shark embryo inside. According to Sam, this one was a few hours away from hatching. You can tell because of its very small yolk sac, which provides nutrients while in the egg.
Seeing Sam in action was definitely a treat. She has worked extensively with sharks over the last few years and has accumulated a rather impressive amount of knowledge about these animals in the process. I hope to interview her next semester about the work she performed for her thesis and her previous experiences with sharks, so stay tuned!
Salamander News
I am happy to report that there have been no further casualties since we lost salamander #80 a few weeks ago. When I cleaned their cages on Friday morning, all the salamanders looked healthy and active.
I am not quite done with my first experiment, but for strategic reasons, I have started the second. My second experiment examines whether visual or olfactory cues contain information about the sex of salamanders of the same species. I am running two treatments. The first consists of a video of a male salamander combined with female olfactory cues and the second consists of the same video combined with male olfactory cues. I expect to see significantly more aggressive behaviours in male salamanders undergoing the second treatment.
On Tuesday night, I ran my first trials with female olfactory cues and the salamanders reacted quite differently than they usually do when confronted with male cues. They were much calmer and less aggressive. I could tell because they were walking much more slowly, they were less active and they displayed less aggressive behaviours, such as looking curving their backs, much like a cat would, to increase their physical presence.
Given that I have only run 9 trials out of the 80 trials that I must complete for this experiment, I cannot conclude anything at this point, but these initial results seem to correspond to my predictions, which is rather exciting!
Salamander! Salamander! – A musical rendition
Axolotls are an interesting type of salamander for a number of reasons. Chiefly, these unique amphibians undergo neotony, which means that they remain in larval form throughout the entirety of their lives. It is for this reason that their gills remain outside of their bodies instead of being resorbed during metamorphosis as is the case for many of their salamander relatives. This limits axolotl to a completely aquatic lifestyle because its gills would collapse in air.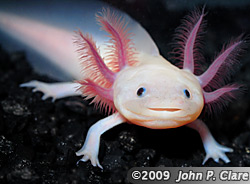 I stumbled across this video on Thursday. When I watched it for the first time, it really cracked me up. I must warn you, however, that it has absolutely no very little scientific merit. Enjoy!